UNIVERSAL

Official Website:http://www.uic.com/
UNIVERSAL Company Introduce:
Universal Instruments is a global leader in the design and manufacture of advanced automation and assembly equipment solutions for the electronics manufacturing industry. With a lineage of more than 50 years, Universal is the longest-standing company in the electronics assembly space.
Universal provides complete solutions to meet specific requirements by leveraging its portfolio of flexible platforms for surface mount, through-hole, advanced semiconductor packaging, light mechanical, and final assembly processes. This best-in-class equipment set is complemented by state of the art software and operational services to help customers monitor and manage operational activities, improve efficiency and lower overall costs of manufacturing. Universal provides exclusive manufacturing process expertise through its world-renowned Advanced Process Lab, and delivers lasting value and support throughout all phases of the ownership experience through a global service infrastructure. Universal maintains offices in the Americas, Europe, and Asia, and is represented through a worldwide direct sales and distributor network.
For manufacturers who want to maximize return on investment for their electronics assembly solutions across the overall product life cycle, Universal Instruments delivers comprehensive, customer-focused solutions for all electronics production environments.
Leveraging innovative technologies and exclusive expertise, Universal solutions optimize time to market, overall efficiency for volume production, and investment protection for any product mix.
History:
Universal Instruments traces its roots to the Universal Instruments and Metal Company, a safety pin manufacturer founded in 1919. Through time, the company discontinued safety pin production and made a transition to a machining and tool and die business. By controlling costs during the Great Depression, Universal Instruments continued to grow through World War II, when the company's tool and die talents were pressed to meet the needs of the state's small arms manufacturers. This work continued until the 1950s, when Universal Instruments entered the electronics assembly equipment manufacturing industry.
Universal Instruments first built electronic circuit assembly equipment for through-hole components in the 1960s. For nearly three decades Universal Instruments flourishes by the production of axial, radial, and DIP insertion equipment. In 1993 Universal Instruments acquired Dynapert through-hole assembly machine business that opened the Southeast Asian markets. Enhancements in the through-hole world continue to this day, and Universal Instruments holds nearly half of the global through-hole market.
The global electronics industry burgeoned with the transition from through-hole to surface mount components. In the early 1990′s Universal Instruments developed a modular platform-based surface mount technology machine – the GSM Platform. With an installed base of over five thousand machines, Universal's GSM quickly became the industry standard in the flexible fine pitch arena.
Today, Universal's core products include a comprehensive surface mount platform portfolio delivering best-in-class performance and value for any budget or production environment; leading-edge advanced semiconductor packaging solutions for a fast-evolving technology landscape; a through-hole lineup that is the industry standard for productivity and reliability; flexible automation cells for odd-form or light mechanical and back-end assembly; line software to manage manufacturing activities and deliver true control over manufacturing profitability; and industry-leading support and services worldwide to help our customers build better, build more, and spend less.
UNIVERSAL SMT Products:
UNIVERSAL Electronic components related:Surface Mount Technology,Solder paste printer、AI、Software
SMT Model,For Example NXT-II: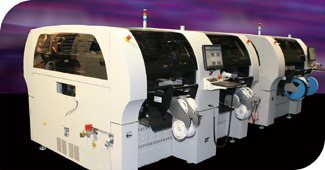 Specification
 
GC-120Q
GC-60D
GX-37D
GC-30S
Chip speed(μ[email protected] Cpk/1.00Cpk)
Highest
140 000(0.026)
66 500(0.054)
48 000(0.075)
35 000(0.100)
1-Bd IPC Wafers (1608)
81 000(0.044)
40 500(0.089)
27 500(0.131)
22 600(0.159)
Accuracy(μ[email protected] Cpk/1.00Cpk)
Wafers
±55/±42
IC
±55/±42
±55/±42
±45/±34
±55/±42
Board size(Mm )(inches)
Maximum (W x L x H)
500x700(19.7x27.6)
508x1016(20x40)
508x1016(20x40)
610x1016(24x40)
The minimum (W x L x H)
50.8x50.8x0.508(2x2x0.02)
The maximum weight (kg (lb)
2.72(6.0)
And cases range (mm (inches)
Maximum (W x L x H)
30x30x6
30x30x6
150x150x25
30x30x6
1.18x1.18x0.24
1.18x1.18x0.24
5.90x5.90x0.98
1.18x1.18x0.24
Machine Dimensions (mm (inches))
The minimum (W x L x H)
0.18x0.38x0.10(0.007x0.015x0.004)
Length x depth x height
2372x2160x1930
1676x2248x1930
1676x2248x1930
1676x2248x1930
(93.4x85.0x75.9)
(66.0x88.5x75.9)
66x88.5x75.9
66x88.5x75.9
Weight (kg / lbs)
4260(9400)
3500(7700)
3500(7700)
3250(7150)
Feeding type
Belt, disc matrix
UNIVERSAL SMT Model And Part List:
More Products,Please BrowseDetailed classificationOrOld website